---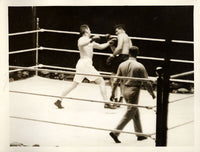 DEMPSEY, JACK-GENE TUNNEY II ORIGINAL PHOTO (1927)
JO Sports Inc.
HISTORY: On September 22, 1927, in Chicago heavyweight champion Gene Tunney defended his title against the man he took it from a year earlier, public favorite Jack Dempsey. There was great attention from the public for this rematch despite Tunney's easy win a year earlier. In round seven of the rematch Dempsey dropped Tunney, but ignored referee Dave Barry's instruction to go to a neutral corner. This afforded Tunney a chance to recover. The fight was forever more known as the "Long Count." Offered here is an original, first generation photo which depicts action during the fight.
FULL DESCRIPTION: This is an original, first generation photo. Bold, clear image. Clean front with small stain on back (which does not come through to front). Not creased or torn. 6 1/2" x 8 1/2."
Size: 6 1/2" x 8 1/2"
Condition: Excellent